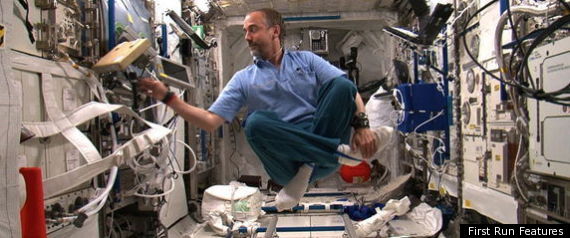 It's not as glamorous as the title sounds. You see, a few years back, I was the lucky handler of VIP Richard Garriott at a conference at Johnson Space Center. It was my job to escort him to a breakout session following his presentation and make sure he was all set up for his discussion. It was a very cool day. I had wanted to escort someone else who I thought was more famous, but ended up with Richard. He is actually very charming, minus the long skinny braid he was sporting that day.
During the breakout session, I helped field questions from the group and learned way more than I ever wanted to know about pooping on board the space station. Apparently, Richard loves to tell the story. He also showed everyone his film "Apogee of Fear" in its entirety on his laptop. His claim is that this is the first science fiction film ever made in space. A true claim as far as I can tell.
After the session, we hung back with a couple of other public affairs lackeys and just talked for a few minutes.  Before he left, he handed me a DVD. His request: try to get it approved by NASA for public release.
I was up to the challenge and promptly got it into the right hands when I got into work the next day. Unfortunately, the 'right hands' left NASA a few months later and then I left not long afterwards. And I never did find out what happened to Richard's little film until just recently.
For the past few days, the space nerd news circle has been all abuzz with stories about how NASA refuses to let the film be shown in public. You see, Richard filmed it during his stay aboard the ISS without permission from the Agency and they typically don't take things like this lightly. It's a harmless film, but it does show astronauts goofing off on government time. That, I suppose, is what JSC's lawyers and the crew office have a problem with. But, I still feel somewhat responsible as I didn't make more of an effort to follow up and push it through the right channels. Consider this my public apology for not having the authority to really do much of anything while I worked at NASA. Ha!
I hope that Richard can get his film released soon, maybe as an intro on the DVD to his documentary "Man on a Mission." Who knows, but I really wish NASA would just lighten up about some things.